How to Check the Oil in Your Car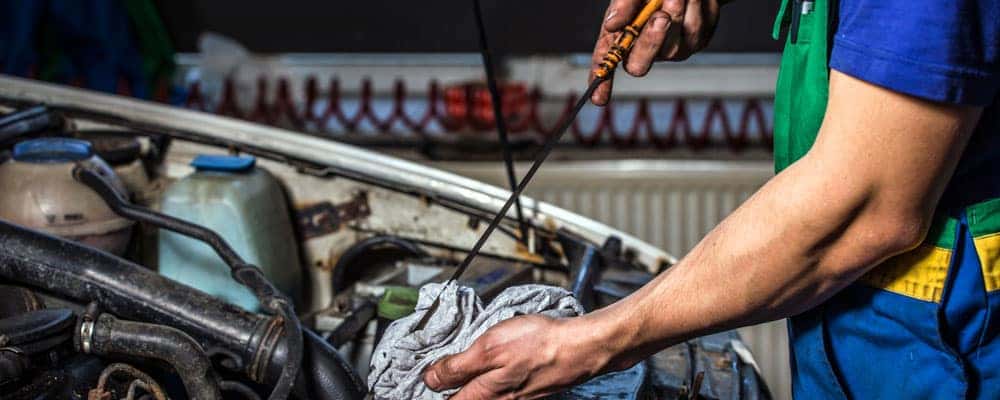 Engine oil is one of the most important substances in your vehicle – it protects your engine from dirt and debris, lubricates moving parts, and helps to draw heat away from the engine to reduce wear and tear. To make sure your engine oil is doing its job and to ensure you won't need an oil change sooner than your owner's manual suggests, you should check the oil in your vehicle at least once a month or have a service pro do it for you.
How to Check Car Oil: a Step-by-Step Guide
It's an easy task and one you can do yourself whether you're running synthetic or conventional oil:
Locate the vehicle's oil dipstick
Pull out the dipstick
Wipe the oil off with a lint-free cloth
Insert the dipstick all the way
Pull the dipstick back out
Inspect the oil level
Rub a little oil between your fingers and look for debris
Add oil if needed
The job takes just a few minutes but could make a huge difference in the way your vehicle runs. Still have questions? Check out our FAQ below for the most common queries our service center gets from Gardner area drivers.
Where's the Engine Oil Dipstick?
Your dipstick should be located at the front of the engine. They often have a ring on the handle to make them easier to pull out, although some European models don't have one at all. If you can't find yours, check your owner's manual for its location.
Do You Check the Oil with the Car On or Off?
You don't want the oil circulating through the engine while you're checking your oil levels. Make sure the vehicle is completely cold so that the oil is in the pan – this will give you a better idea of how much oil is really in your engine, and keep you from getting burned.
How Do I Know if the Oil is Low?
At the end of your dipstick, there are two lines. One line is marked 'Add' the other is marked 'Full.' Ideally, your oil level should be between those two lines – never above 'Full' or below 'Add.'
How Do I Add Oil?
If your engine oil is low, you can add more directly to the engine. Look at the engine block for the cap labeled 'Oil,' it should look something like a radiator cap. Unscrew the cap and insert a funnel, to prevent messy spills. Very carefully, add a half quart of oil to the engine and check again, using the instructions above. Be careful not to overfill.
What Kind of Oil Should I Use?
Your oil cap may tell you what oil to use in your engine, or you may need to consult your owner's manual to find the right weight and type of oil for your vehicle. Don't guess. Using the wrong kind could damage your engine.
Let Olathe DCJR Help!
If it's time for an oil change, or you need a hand with any of the maintenance tasks your car needs, or want to learn automotive tips like how to make your own car air freshener, how to diagnose engine issues based on leaking car fluids, or how to read tire codes, schedule a service appointment with one of the expert techs at Olathe Dodge Chrysler Jeep Ram. Whether you need anything from a Jeep Wrangler accessory or service work, we'll have you taken care of and back on the road to Lenexa in no time. Don't forget to take advantage of our money-saving coupons as well!
More from Olathe Dodge Chrysler Jeep Ram
The 2019 Chrysler Pacifica was recently given a Consumer Reports Automotive Best Buy award, so you know it's an excellent family car for Overland Park drivers. But with six available configurations, it can be tough to choose the right trim level for your Springhill commutes. Explore the features you'll find equipped to each trim level, so you can…

Drivers in and around Overland Park want to drive an SUV with serious off-road capability and distinguished style. So, needless to say, many Gardner drivers consider the 2019 Jeep Wrangler. Available in a wide range of color options, you're sure to find a Jeep Wrangler color that fits your personality among our inventory! Explore our guide to…

The 2019 RAM 2500 heavy-duty pickup truck is ready to take on the toughest jobs from Overland Park to Gardner. Available with two powerful and dynamic engine options and your choice of rear-wheel drive or 4×4 drivetrain, you can be sure the RAM 2500 can handle your to-do list. If you've been wondering, "How much can…