How Does an Oil Change Work?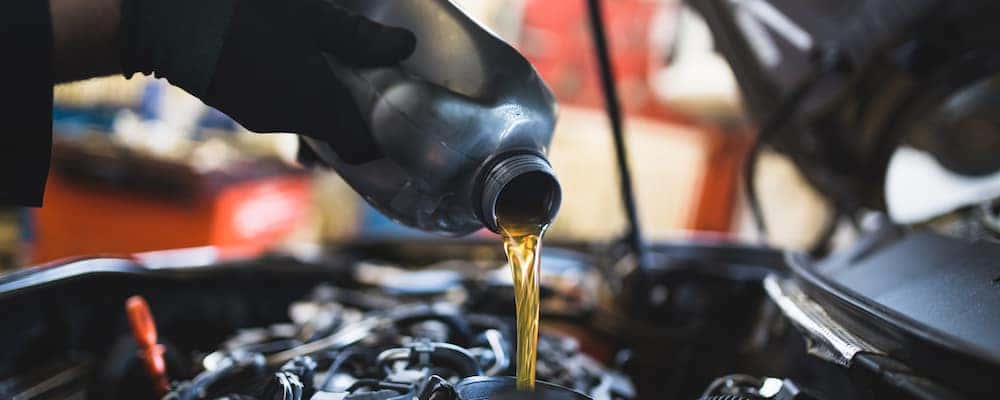 Changing your oil is one of the cheapest maintenance tasks you can do for your car, but also one of the most important. Read on to see what it takes to do the job yourself, and how you can save money if you decide you'd rather let one of our skilled service technicians do the job for you in our Overland Park area service center.
What Does Engine Oil Do?
Engine oil's primary function is to lubricate the moving parts in your engine, reducing friction and ensuring your car runs smoothly — so hopefully it's clear that it's not good if you don't change it. The oil has other essential tasks as well. Your engine oil also helps to pull dirt out of the engine to limit excessive wear and, as it circulates, it helps to cool the engine. This prevents overheating and seizing up on those daily drives to Gardner. Be sure you're checking your oil at least once a month as well.
How Long Does an Oil Change Take?
If you're doing your oil change, expect it to take between 30-60 minutes, depending on your level of expertise. If a Springhill area service tech is doing the work, it can take as little as 15 minutes thanks to the professional equipment we have on hand to get your car in, out, and on the road quickly.
How Much Does an Oil Change Cost?
The cost of an oil change depends on several factors, including whether you're doing the work yourself, using standard or synthetic motor oil, require a specialty filter, and are taking advantage of one of our service coupons. In general, an oil change for a small passenger vehicle can be as low as $24.95, while a synthetic oil change for a commercial vehicle starts at around $119.95.
How Do I Change My Oil?
You already clean and detail your car like a pro. If you'd like to try your hand at changing the oil too, gather your supplies:
Gloves
Safety glasses
Oil and filter (see owner's manual for quantity and type)
Oil filter wrench
Jack and jack stands
Oil pan
Funnel
If your car has been running, allow it to cool off until the engine is safe to touch. If it has been sitting, let it run for a minute or two to warm the oil, so it flows more smoothly. Then follow these steps:
Jack up your vehicle and secure it with jack stands
Find the drain plug and place the oil pan beneath it
Drain the oil
Remove the filter
Replace filter
Replace and tighten the drain plug
Fill oil per owner's manual
Check oil level
Check for leaks
That's it! You've changed your oil and are ready to get back on the road to Lenexa
Get Expert Service at Olathe Dodge Chrysler Jeep Ram in Olathe!
If you'd rather not change your oil, stop by the Express Lane at Olathe CDJR and take advantage of fast, cost-effective oil changes on your time. We're just a quick trip from Kansas City, and our team can get you and your vehicle back to where you should be — fast. And beyond our fast service, our knowledgeable experts can show you the ins and outs of mufflers and RAM key fobs — we'll even show you how to make a car air freshener! If you have any questions, do not hesitate to contact us online.
Related Posts from Olathe Dodge Chrysler Jeep Ram