DIY Car Air Freshener: How to Make Your Own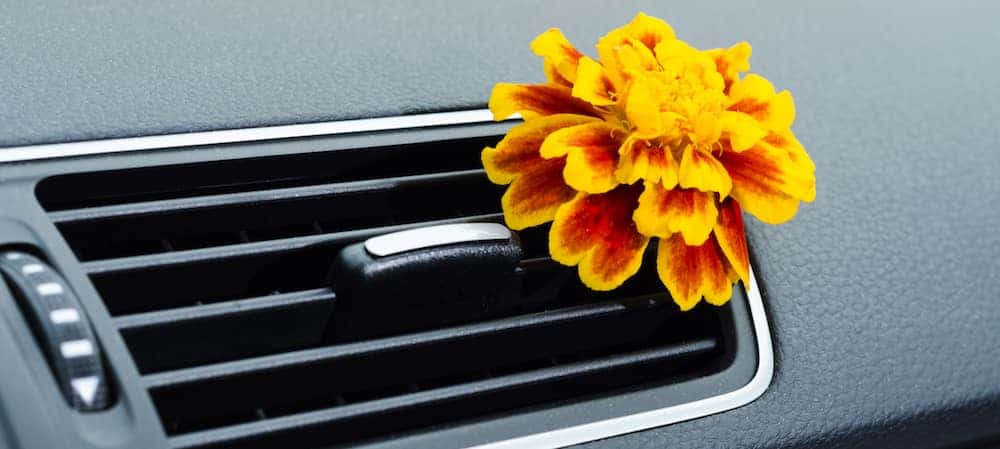 One of the easiest ways to create a comfortable environment in your new Chrysler, Dodge, Jeep, Ram is to make your very own car air freshener. Using materials like mason jars, clay discs, felt, herbs, and essential oil, you can create a custom air freshener.  Olathe Dodge Chrysler Jeep Ram has put together a short how-to for some inspiration in your DIY journey!
Natural Herb Sachet Car Air Fresheners
For an eco-friendly, natural car air freshener, you can use fresh herbs and create a sachet. Simply crumple the felt bag in your hands every so often to rejuvenate the scent.
Items You Need:
Your favorite herbs
Felt in any color you like
Thread and needle
Scissors
Hole punch
String
Directions:
Cut out two pieces of felt that are the same size and shape.
Sew the felt pieces together using a running stitch, creating a bag for the herbs.
Place the herbs inside and sew the top closed.
Punch a hole into the top.
Put the string through the hole and tie the two end-pieces.
Hang your new air freshener on your rearview mirror or air vent.
Terra Cotta Clay Disc & Essential Oil DIY Air Fresheners
Terra cotta clay discs can be found online, at craft stores, or home improvement stores around Overland Park and Gardner. They absorb essential oils well and can keep your car smelling fresh for weeks. This DIY air freshener hack is extremely easy-to-follow!
Items You Need:
Clay disc
Your favorite essential oils
Directions:
Rub a generous amount of essential oils onto the clay disc.
Let the oils soak for a while, then place the disc in your car.
Mason Jar Car Air Fresheners
Don't want your air freshener to be visible? Mason jar air fresheners are excellent for odor elimination and can be stowed away under the passenger seat or in a rear cup holder.
Items You Need:
Small mason jar
Your favorite essential oils
Nail
Cardboard
Baking soda
Directions:
Remove the lid from the mason jar.
Use the metal lid to trace a circle on the cardboard, then cut out the circle.
Use the nail to poke holes into the cardboard.
Fill the jar halfway with baking soda.
Add drops of essential oils.
Replace the metal ring with the cardboard circle you just cut out. Secure the circle with the metal ring. Save the metal circle for later.
Get More DIY Air Freshener Tips from Olathe Dodge Chrysler Jeep Ram!
We hope we showed you how to make one the best car air fresheners around, and we hope we made the process easy peasy. For more car maintenance tips and tricks, such as how to check your car's oil or RAM key fob tricks, turn to the experts at Olathe Dodge Chrysler Jeep Ram for assistance! Our trained staff is at the ready to help you with all of your automotive needs. Simply contact us for more information, to find out about used car leasing, or to set up an appointment at our Olathe service center.
---
Related Posts from Olathe Dodge Chrysler Jeep Ram