Synthetic vs. Conventional Oil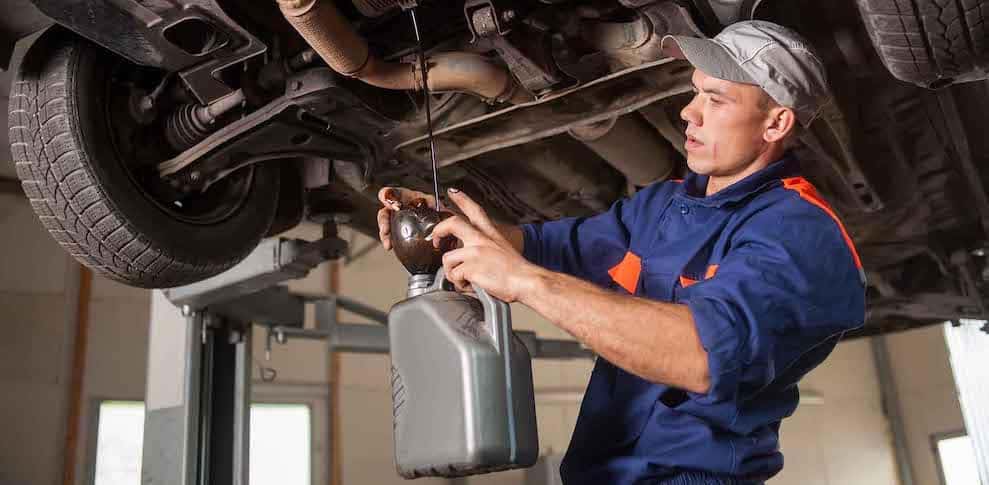 Whether you're trying to change the oil in your Chrysler, Dodge, Jeep, Ram or you're taking your vehicle to our service department for an oil change, you ought to know the differences between synthetic oil vs. conventional oil. Compare the differences between synthetic and conventional oil here at Olathe Dodge Chrysler Jeep Ram in Olathe, KS.
What is Synthetic Oil?
Synthetic motor oil requires a more sophisticated process of refinement, involving artificially manufactured compounds as the base motor oil. This results in more molecular purity. The result of this process is a cleaner product with less friction and fewer impurities. While the process of refinement results in a more expensive up-front price for synthetic oil, there are a handful of advantages in choosing synthetic oil over conventional oil. These benefits include:
Keeping your engine clean for your favorite restaurant outings
Superior function in extreme heat and cold weather conditions
Better performance and fuel efficiency
Longer intervals between oil changes
Improves the longevity of the powertrain
If synthetic oil is too expensive for your Springhill commute, you may wish to consider a synthetic motor oil blend. This blend includes a mixture of conventional oil and synthetic oil. Before making the switch, however, it's best to consult your Pacifica's owner's manual.
What is Conventional Oil?
Conventional motor oil is the commonest kind of motor oil. It is taken from crude oil. Then, the crude oil is refined to be compatible with automobile engines. Since this is the commonest kind of motor oil, it's generally cheaper than synthetic motor oil. Consult your RAM 1500 owner's manual before deciding on conventional oil.
Get an Oil Change Near Overland Park at Olathe Dodge Chrysler Jeep Ram Today!
Bring your vehicle in for an oil change from Overland Park to our service department today! Here, at Olathe Dodge Chrysler Jeep Ram, we have plenty of service specials taking place – only sweetening your oil change deal. Contact our service department today for oil change queries, or to schedule service in Olathe, KS at your convenience.
---
Related Posts from Olathe Dodge Chrysler Jeep Ram
Whether your Jeep or RAM vehicle has simply aged or you've gone on too many offroading adventures, you may encounter a loose or broken muffler. How do you know when you're in need of a muffler fix? Keep an eye out for the following signs and consider these tips from Olathe Dodge Chrysler Jeep Ram, as well, to ensure…

If you've ever checked your tires or if you've had to order new ones from your local Gardner parts shop, you've more than likely seen the combination of numbers and letters on the sidewall of them. So, you're probably wondering, "What do tire numbers mean?" This code indicates the size and type of tire it…

Is antifreeze the same thing as coolant? While some Springhill drivers may believe that antifreeze and coolant are two different types of car fluids, coolant and antifreeze are the same thing. Learn what antifreeze/coolant does with the service experts at Olathe Dodge Chrysler Jeep Ram in Olathe, KS. How Much Does a Serpentine Belt Cost? Contact Us What Does Antifreeze/Coolant…