5 Clever Tips To Help You Clean Your Car Like a Pro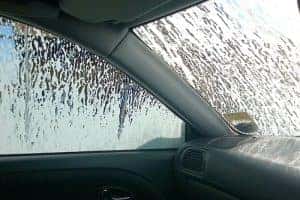 Whether you own a shiny brand new Chrysler or a powerful Dodge, you want your vehicle to look its best. Many of us take the time to wash and detail our cars on the weekends, but it is important to do it the right way to help keep it looking good and to make sure the paint and interior last. Here are some clever tips to help you clean your car like a pro.
Use Two Buckets
When you wash the exterior of your car, it is important to give it a thorough rinse before you get in there with the soap. Rinsing will remove large pieces of dirt that could scratch the paint when you wash it. You also want to use two buckets of water. One will hold the soap, and the other should have clean water. Use the clean water bucket to rinse the sponge or cloth so you are not putting the dirt back on the car while washing it. It is also important to start at the top and work your way down.
Use Compressed Air
Compressed air is the best way to get in all the nooks and crannies of the car. Use this to loosen all the dirt off the floor of the carpet and down in the seats. The powerful air will get to grime that you can't remove any other way. You can also use the compressed air to clean down in the door handles and the hard to reach places including the air ducts.
Use Static Electricity To Your Advantage
Static electricity might be problematic in many cases, but you can use it to your advantage when cleaning your car. Put on a pair of latex gloves and brush them over the carpet. They will attract pet hair and move it up to the surface so you can easily vacuum it up. You can also use a squeegee and a spray bottle of water to remove pet hair from the upholstery. Just spray some water on the seats and the use the squeegee to collect all the hair and fur.
Use A Buffer, But Not In the Way You Think
Many people think they should use a buffer to remove the wax from the car, but it is more effective to use one to apply the wax. Once it is on the car, use a soft dry cloth to remove it. Using a buffer to remove the wax will leave swirl marks on the clear coat and paint.
Use A Clay Bar
A clay bar is one of the professional's best-kept secrets. There is no better method for removing surface grit and grime than a clay bar system. Find one that includes a spray lubricant and an 80-100 gram clay bar along with a towel. Use this after you wash and dry the car to remove any contaminants from the paint. This will allow the paint to take the polish and wax better.
Try these tips the next time you head out to wash and detail your vehicle.
Rely on Olathe Dodge Chrysler Jeep Ram for Car Washing Tips!
Here at Olathe Dodge Chrysler Jeep Ram, we love to help Overland Park and Springhill drivers in all things car maintenance. That's why you can rely on us for easy-to-follow tips on how to wash your car – and even how to make a DIY car air freshener. If you have any questions – or if you have some car washing tips you'd like to share with our experts – contact us today! From car washes to RAM key fob tricks, our team is always willing to help you!
This photo, "Project 365 #97:070417 At The Car Wash," by Pete used under CC BY 2.0. "Project 365 #97:070417 At The Car Wash" is licensed under CC BY 2.0 by Olathe Chrysler Dodge Jeep Ram.