Top 4 Farmers Markets You Must Visit Near Kansas City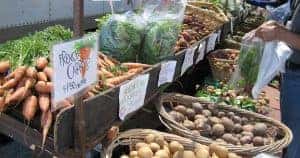 Do you enjoy eating farm-fresh foods that come from a local source? You can purchase organic ingredients to make a healthy meal from any of these farmers markets in Kansas City.
Brookside Farmers Market
The Brookside Farmers Market is located in the parking lot of the Border Star Montessori School near the intersection of 63rd and Wornall. It's open Saturday mornings starting at 8 and ends at 1 p.m. The market opens for the season beginning toward the end of April and closes when the harvest ends in the fall. Brookside specializes in certified organic food, including herbs and vegetables, grass-fed meat, free-range eggs, and freshly baked goods. All of these items are grown or produced within 100 miles of Kansas City.
If you need a snack, the market has a restaurant called Brookside Breakfast Burritos where you can sit down and have lunch. The market also takes SNAP EBT if you don't have any cash on hand.
KC Organics and Natural Market
The KC Organics Market is located near the intersection of Red Bridge Road and East 110th Street. The market is open on Saturdays from 8 a.m. until 12:30 p.m. It runs from the first weekend in May until mid-October. KC Organics offers locally grown organic produce, free-range and heritage breed meats, mushrooms, honey, artisan breads, herbs, fresh eggs, and much more.
KC Organics also features a fair trade market with unique items and a cooking demonstration area where local chefs show off their culinary skills. On some Saturdays, the market even has live local bands playing.
Waldo Farmers Market
The Waldo Farmers Market at ReStore is located near 303 W 79th Street, which is one block east of Wornall on W 79th Street. This isn't a weekend market; instead, it's open on Wednesdays from 3 p.m. until 7 p.m. The market runs from the beginning of May and ends at the start of October. At this market, you'll find both USDA certified organic and non-certified meat, cheese, vegetables, cheese, honey, and flowers. All of the local vendors here travel from between four and 100 miles away.
Grown in Ivanhoe Farmers Market
The Grown in Ivanhoe Farmers Market is located at 3700 Woodland in the parking lot of the Nutter Ivanhoe Neighborhood Center. The market starts for the year on the third week of June and closes the last week of September. It's open every Friday from 5 p.m. until 7 p.m. The Ivanhoe Market began in 2012 and is an open-air market that provides local, organic food.
The Grown in Ivanhoe Farmers Market was created as an extension of the "Grown in Ivanhoe Project," which has won many local awards for providing fresh food to residents. If you're short on cash, the market accepts both SNAP EBT and the Double-$-Value Beans & Greens programs.
Make it easy to visit all of these farmers markets by investing in a new car from Olathe DCJR. Stop in today to browse our new vehicles and learn more about local events, such as the Kansas Special Olympics, best bakeries in KC, best parks in Olathe, KS, and best music venues.
This photo, "San Francisco Farmers Market<," by Eugene Kim used under CC BY 2.0. "San Francisco Farmers Market" is licensed under CC BY 2.0 by Olathe Chrysler Dodge Jeep Ram.