Is My Car in Need of an Alignment?
If you notice your vehicle pulling to the left or right, or if your steering wheel is vibrating, your car may be in need of an alignment. Misalignments can be caused by rough, uneven terrain, challenging driving conditions, or even hitting a pothole during your morning Gardner commute. Keeping up on regular car alignments will help prolong your tire's tread and lifespan, so be sure to schedule this service every 5,000 miles or so.
What is a Car Alignment?
A car alignment (otherwise known as a wheel or tire alignment) is when a certified technician adjusts your vehicle's suspension, the system that connects your wheels. The goal of an alignment is to ensure your tires are all angled correctly and that they meet the road properly. While your car rolls off the line with precise alignment, certain driving conditions can throw off the balance, leading to bigger issues down the road.
Getting regular car wheel alignments will help you achieve:
A smoother drive in Overland Park
Better fuel economy
Even wear on your tires, prolonging their life
Optimal handling
How Can I Tell If My Car's Alignment is Off?
While every vehicle is different, there are a few common signs that point to the need for a tire alignment. Misalignment means your wheels are not all pointing in the right direction, so you may start to notice a change in your vehicle's performance, finding it harder to stay straight in your lane. Other signs include:
Uneven or rapid tire wear
A shaking or vibrating steering wheel that won't stay straight
Screeching tires
Your car pulls to the left or right on its own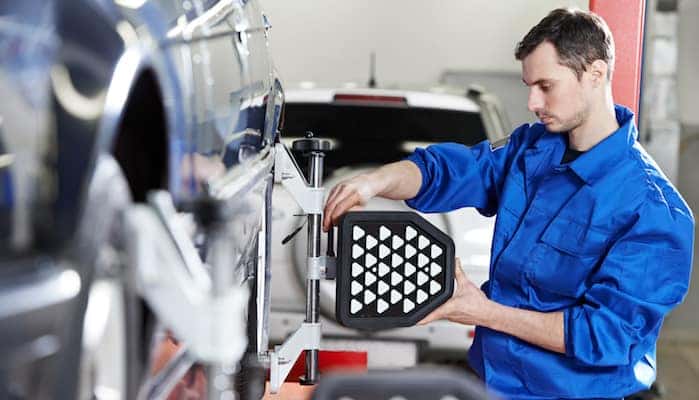 Ignoring these signs may cause you more trouble in the long run, forcing you to buy new tires earlier than expected. Not sure if your car needs a wheel alignment? Our service department can inspect your vehicle and diagnose any issues.
Schedule a Car Alignment in Olathe, KS
How much does a car alignment cost? At Olathe Dodge Chrysler Jeep Ram, we want our Springhill customers to save on service, which is why we offer a rotating selection of service specials and coupons. Our experienced service professionals are happy to walk you through all things service, from researching serpentine belt costs to checking your own car oil.
We'd also love to help you find the perfect used Jeep Wrangler for sale!
Recent News from Olathe Dodge Chrysler Jeep Ram
Go far off the beaten path when you're behind the wheel of a 2022 Jeep Wrangler. The new Jeep Wrangler retains its legendary roots and delivers incredible off-road performance and provides an open-air driving experience around Overland Park that you won't forget. While off-road performance and removable tops and doors are a strong suit of the…

When you opt for a new Dodge vehicle to help you take on your Overland Park adventures, you know that you're getting a vehicle that delivers incredible performance. Now, Dodge is introducing an incredible new compact SUV that provides legendary Dodge muscle and performance to the segment. Introducing the 2023 Dodge Hornet, a compact utility vehicle…

The off-road performance of any new Jeep vehicle is hard to beat. They're all incredibly capable with innovative off-road technology to get you far down the roads less traveled. WIth that being said, the off-road capabilities of a new Jeep Wrangler are hard to deny and it's arguably one of the most capable vehicles available…