The Right Decision is Owning a Heavy Duty Ram Truck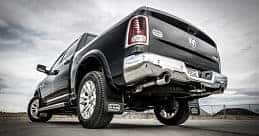 Buying a new truck can be difficult, especially with so many options on the market today. Heavy-duty Ram trucks have been the go-to vehicle in their class for their durability and power, for many years. Consider a few of the following features of a Ram truck to see why becoming an owner is the right decision to make.
Diesel Engine
Unless you choose otherwise, both the Ram 2500 and Ram 3500 come standard with a 6.7-L Cummins turbo diesel I6 engine. What's so great about a diesel engine? Diesels actually get much better mileage than their gas engine counterparts, especially EcoDiesel vehicles, enabling these heavy-duty selections to go farther on a single tank of gas. What's more, diesel engines don't require spark plugs or distributors, so you'll never have to worry about getting your ignition tuned up.
Finally, diesel engines are one of the driving factors behind the additional torque that these Rams pack. Because diesel burns differently than gas, it can provide a bigger burst of power to the truck.
Towing Power
Speaking of torque, both of these vehicles come with incredible torque ratings. The 2500 can get up to 370 horsepower and 800 pound-feet of torque on the standard engine, while the 3500 boasts 385 horsepower and up to 900 pound-feet of torque. With numbers like these, these trucks can tow nearly anything you throw at them.
The 2500 has a max towing rating of 17,980 pounds, which is enough to pull a fully-grown Tyrannosaurus rex plus some. And with a max payload of 3,160 pounds, you can tote around even the heaviest of cargo.
If you think that's impressive, the 3500 will blow your mind. It can pull up to 31,210 pounds (over three hippopotamuses) and has a max payload of 6,720 pounds.
Off-Road Performance
The Ram 2500 and 3500 are made to go off-roading. All trim levels of the 3500 come standard with a front stabilizer bar and tow hooks to keep you secure on any type of terrain. The 2500 just comes with a front stabilizer bar, but that should be more than enough to keep you satisfied.
Who Needs a Heavy-Duty Ram?
With all of these factors in mind, the ideal candidate for a heavy-duty Ram is a person who wants to use and abuse their truck. Whether you're a construction worker, contractor, or owner of a large piece of equipment, the Ram 2500 or 3500 can help you carry around your equipment with ease. You can tow boats or fifth-wheel trailers or load up the bed with heavy construction materials. If you need to drive off-road to get to a construction site or remote lakefront boat launch, these trucks will let you do so with ease.
Sold on a heavy-duty Ram? If so, stop by Olathe CDJR to browse our selection of new and used vehicles. You can even compare the Ram 1500 vs. Ram 2500 or take a closer look at Ram 2500 towing capacity if you're not sure.
This photo, "Black Ram," by Truck Hardware used under CC BY 2.0. "Black Ram" is licensed under CC BY 2.0 by Olathe Chrysler Dodge Jeep Ram.