2018 Ram 2500 vs 2018 GMC Sierra 2500 in Olathe, KS
Comparing the 2018 Ram 2500 and GMC Sierra 2500 Heavy Duty Trucks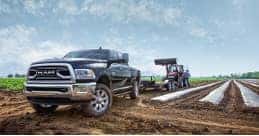 For many pickup truck shoppers in the Greater Kansas City Area, a light-duty pickup truck is more than enough to satisfy all of their towing and hauling needs. But for those who need much higher towing capacities, heftier payload limits, and bigger and tougher, well, everything, heavy-duty trucks are the only way to go. Two of the names that stand out among heavy-duty trucks are the Ram 2500 and the GMC Sierra 2500. But if you're thinking of picking one up, which do you choose? We think the new 2018 Ram 2500 is the clear winner, but you can read on to see for yourself…
Trim Levels and Pricing
The 2018 Ram 2500 is available in a wide range of trim levels so that you can customize it to fit your workload. With a relatively low MSRP starting at $32,545, you'll still get the benefit of a powerful 5.7L V8 capable of producing 383 horsepower and generating 400 pound-feet of torque. The 2018 GMC Sierra 2500 starts off at a higher MSRP of $34,740 and only offers four trim levels to choose from, leaving you out in the cold when it comes to customization options.
2018 Ram 2500 Trim Levels
There are seven trim packages available on the 2018 Ram 2500, and many of them will be familiar to anyone who has ever shopped Ram's popular 1500 line of light-duty trucks. Even the base model Ram 2500 Tradesman comes standard with an impressive engine that can be upgraded to a 6.4L HEMI V8 or a 6.7L Cummins Turbo Diesel. Higher trims include the Ram 2500 SLT, the Ram 2500 Big Horn, the Ram 2500 Laramie or Laramie Longhorn, the Ram 2500 Power Wagon, and the Ram 2500 Limited, which includes real wood accents, a leather-wrapped steering wheel, and plenty more premium touches. All of these trims offer powerful engines, class-exclusive features, and world-class hauling and towing capabilities that can perform just about any job under the sun.
2018 GMC Sierra 2500 Trim Levels
When it comes to choices, the 2018 GMC Sierra 2500 is a lot leaner on options than the Ram 2500. With only four trim packages and two V8 engines to choose from (a 6.0L V8 with 360 horsepower and a 6.6L Turbo Diesel V8), the GMC Sierra 2500 seems to take a one-size-fits-all approach to heavy-duty pickup trucks. Available trims include the base-level Sierra, the SLE, the SLT, or the Denali. While the Denali offers some premium features, it also comes with a premium price tag to match.
Conclusion: With a lower entry-level price tag and so much more to choose from in terms of trim levels and options—not to mention industry-leading engines—the 2018 Ram 2500 feels like the clear winner.
Engine Options & Performance Factors
When it comes to heavy-duty pickup trucks, power is the key factor. If it can't haul and tow and perform under strenuous conditions that would make most truck owners turn tail, then it's not likely to last long on the jobsite. In this contest of sheer power, we believe the 2018 Ram 2500 heavy-duty truck is the top choice.
2018 Ram 2500 Engines & Performance Factors
At several of its trim levels, the 2018 Ram 2500 comes standard with a respectable 5.7L V8 engine which still turns out more horsepower than the standard V8 in the 2018 GMC Sierra 2500. For drivers who need even more power and torque, Ram offers a pair of industry-leading engines in the form of the 6.4L HEMI V8, which offers best-in-class horsepower of 410, and the 6.7L Cummins Turbo Diesel with Ram Active Air, which provides a massive 660 pound-feet of torque with a manual transmission or a jaw-dropping 800 pound-feet of torque with an automatic, offering a maximum towing capacity of 17,980 pounds!
2018 GMC Sierra 2500 Engines & Performance Factors
When you get behind the wheel of a 2018 GMC Sierra, you'll only have a choice of two engines. The standard 6.0L V8 is solid enough, but it can't turn out as much horsepower as even the base engine of the Ram 2500. While the pricey 6.6L Duramax Diesel engine can generate up to 910 pound-feet of torque, that only lets it tow a few more pounds than the Cummins Turbo Diesel in the Ram 2500.
Conclusion: When you get right down to it, both trucks are powerful enough to do what they need to do, but the cheaper price tag and stouter engine on the base level 2018 Ram 2500 offers more truck for your buck, while a broader array of trim and engine options lets you customize your Ram to fit your needs.
Interior & Noteworthy Features
When you buy a heavy-duty truck, you want one that'll work as hard as you do. But while today's heavy-duty pickup trucks are rugged on the outside and muscular under the hood, there's no need for them to be uncomfortable on the inside, and many modern trucks are so filled with tech features that they can double as a mobile office.
2018 Ram 2500 Interior & Features
The interior of a good work truck should offer plenty of head and leg room, not to mention tons of storage space. Fortunately, the 2018 Ram 2500 has all of those covered, plus plenty of luxurious amenities and tech upgrades, especially at higher trim levels, which offer leather and even real wood accents, heated seats, and a Uconnect infotainment system with an 8.4-inch touch screen that boasts higher resolution than previous models.
2018 GMC Sierra 2500 Interior & Features
The 2018 GMC Sierra 2500 can get pretty luxurious, but it comes with a heavy price tag. Base trims feature cloth seats and 7-inch infotainment screens, but to get the really good stuff available in the Denali, the price climbs pretty steeply.
Conclusion: Both the 2018 Ram 2500 and the 2018 GMC Sierra 2500 offer some pretty sweet amenities, especially at higher trim levels, but with its lower price tag and wider range of options, the Ram 2500 simply gives you better bang for your interior buck, and its customization options mean you're not stuck paying for bells and whistles that you don't want or need.
Safety Features
A heavy-duty truck is built for heavy-duty work, and that requires heavy-duty safety. Fortunately, modern heavy-duty trucks are engineered tough so that they can withstand whatever you throw at them while also keeping you, your passengers, and your cargo safe.
2018 Ram 2500 Safety Features
The 2018 Ram 2500 scored an overall four out of five stars in safety from the National Highway Traffic Safety Administration, thanks in part to solid construction and a bevy of standard safety features including a ParkView rear back up camera, electronic stability control, multi-stage airbags, hill-start assist, and more. You can also add additional safety and driver-assist features such as parking sensors in the front and rear of your 2018 Ram 2500.
2018 GMC Sierra 2500 Safety Features
While the 2018 GMC Sierra 2500 comes standard with a rearview camera at every trim level, you have to upgrade to the pricey Denali trim to get the best active safety features, such as lane departure and forward collision warning.
2018 Ram 2500 vs. GMC Sierra 2500 Comparison Conclusions
Obviously, both the 2018 GMC Sierra 2500 and the 2018 Ram 2500 are hard-working, dependable trucks. But when it comes to getting the most out of your heavy-duty truck dollar, the smart money is on the 2018 Ram 2500 with its lower base price, high-performing engines, and wide array of trim options available. Come see which Ram 2500 is right for you at Olathe Dodge Chrysler Jeep Ram today! Want to consider more heavy-duty options? Compare the Ram 2500 vs. Ram 3500!