We All Will Fall in Love With the 2018 Dodge Charger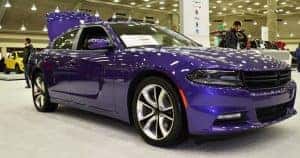 You're ready to start looking at new cars, but you're not quite sure what you want yet. If you haven't checked out the 2018 Dodge Charger, make sure to take a look today. If you're already considering the Charger for your next vehicle, learn even more about what makes it your perfect new vehicle.
Updates and Changes
While all of the official specs have not yet been released for the 2018 Dodge Charger, it is expected to be a carry-over design with a few updates and changes over the 2017 version. There is speculation that the car will have a few special-edition models, though the information on this isn't currently available. It is also expected that you will have a variety of engine models, including both V6 and V8 models. Other changes expected include larger wheels and a short front overhang. The interior of the 2018 Dodge Charger is not expected to change much, if at all.
Stylish Exterior
Overall the exterior of the 2018 model is expected to stay the same or very similar to the 2017 model. The crosshair grill is stylish and imposing, leaving images of the car's heritage in your mind. It offers a unique retro feel to the Charger of today. The beautiful lines and delicate sculpting throughout the exterior come together to give you a beautiful car unlike anything else on the road. On the side doors, you'll notice the scalloped design to help improve the overall look. Exterior features include variable intermittent windshield wipers, dual rear exhaust, and body-color exterior mirrors.
Comfortable Interior
Inside the 2018 Dodge Charger, you can expect comfort and convenience to be key. Depending on the trim level you choose, you can get cloth or suede/leather seats. Heated front row and second-row seats are available on select trims to help keep you warm when the weather gets cold. The car comes standard with cell phone storage to help keep you focused on the road. However, you can also stay connected with the integrated voice command with Bluetooth technology that comes in all trim levels of the Charger.
Safety and Security
Even when driving as stylish of a car as the 2018 Dodge Charger, you need to know you're safe on the road. Luckily, this car comes with a host of safety and security features. You'll get advanced multistage front airbags, all-speed traction control, electronic roll mitigation, and electronic stability control. There are several features that are optional, including blind spot monitoring and cross path detection, knock back mitigation, lane departure warning and lane keep assist, and a security alarm.
While all of the specs and information on the 2018 Dodge Charger has not yet been released, there is enough to know that this is going to be a car you'll love. Check with your local Dodge dealership to get more information on the release of the 2018 Dodge Charger and get ready to make an impression with your new car. You'll get all the features and benefits you're looking for, and more.
This photo, "2016 Dodge Charger RT in Plum Crazy," by crudmucosa used under CC BY 2.0. "2016 Dodge Charger RT in Plum Crazy" is licensed under CC BY 2.0 by Olathe Chrysler Dodge Jeep Ram.