The Top 4 Safety Features Seen in the Jeep Wrangler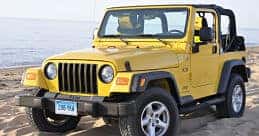 Whether you want to take your Jeep rock crawling or plan to stick to the freeways with an occasional venture off the beaten path, safety is a priority. Though you should always drive defensively and consider weather conditions, Jeep has implemented several automated technologies and safety features in its Wrangler and Unlimited models to keep you safe on the road (or on the mountainside).
Here are some of the top safety features seen in these Jeeps.
Advanced Airbag Technology
Advanced multistage front airbags come standard in all Jeep Wrangler and Jeep Wrangler Unlimited models. Supplemental front seat-mounted side air bags are available for all models except the Sport, Willys Wheeler, and 75th Anniversary Edition. Equipped with sensor detection, these air bags deploy on the side of the collision to further protect drivers in such an event.
Stability Control
Maneuverability and control are very important for Jeep drivers. For those who are off-roading on steep inclines or towing a heavy load, extra precautions must be taken to maintain traction and stay in control. Jeep has made this easier with its stability control technologies, which includes trailer sway control.
This system works by automatically adjusting the vehicle's steering, torque, and brake force to re-center the vehicle or guide the driver back on to the intended path. The vehicle will even automatically apply the brakes if needed. The trailer sway control is an extension of this system and detects if the pull of a trailer while turning is affecting the driver's ability to stay on the road. It will then apply the brakes on one side as needed to compensate for the sway.
Stability control and trailer sway control are standard on all Jeep Wrangler and Jeep Wrangler Unlimited models.
Electronic Roll Mitigation
Electronic roll mitigation (which also uses the electronic stability control sensors) is another technology designed to keep the vehicle centered and the driver in control. This system calculates the potential for wheel lift, which can occur while making a tight turn or when a driver otherwise begins to lose control of the vehicle and automatically reduces the engine power and applies the brakes as needed.
Electronic roll mitigation is another standard feature in all Jeep Wrangler and Jeep Wrangler Unlimited models.
Hill Start Assist
Hill start assist is another standard feature in all Jeep Wrangler and Unlimited models. This safety technology helps prevent rollback. If the Jeep is stopped, not in park or neutral, and on at least an 8 percent-grade hill, the system will kick in and automatically maintain brake pressure for a brief moment as the driver switches from braking to accelerating.
See for Yourself
This is just a brief outline of the safety features available in modern Jeep Wranglers. Antilock brakes, pretensioners, and a cutting-edge security system also come standard in 2017 Jeep Wrangler and Jeep Wrangler Unlimited.
Jeeps are rugged and fun to drive and have a high resale value, and these added safety features make them an excellent choice for your next used or new vehicle. Visit Olathe Dodge Chrysler Jeep Ram for more information about Jeep Wrangler and Unlimited models in Olathe, Kansas. We even offer Jeep Wrangler accessories for those who want to take their performance to the next level! Be sure to check out available Jeep Wrangler colors so you can find your favorite.
This photo, "Cori's Jeep," by Tim Taylor used under CC BY 2.0. "Cori's Jeep" is licensed under CC BY 2.0 by Olathe Chrysler Dodge Jeep Ram.