Say Hello to the 2018 Dodge Demon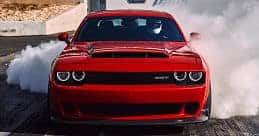 The much-anticipated 2018 Dodge Challenger SRT Demon has finally hit dealerships. Those who pre-ordered will soon enjoy a new status on the drag strip. Those who didn't should get down to a Dodge dealer to snap up the best street-legal production car on the market. If you're wondering what all the hype is about, here's how the Demon is breaking records.
Most Powerful Production Car
A supercharged 6.2-liter Hemi V8 engine, enhanced by a 45-square-inch Air-Grabber hood scoop, delivers a staggering 840 horsepower and 770 pound-feet of torque. Strap yourself in, as the power of this engine will knock you back in your seat, as it takes off in a cloud of smoke. The Demon proudly snags the title as the fastest production car with the highest g-force. The lack of front and rear seats reduces weight, thereby improving speed. However, you do have the option to add seats.
Dominates the Drag Strip
Dodge specifically built the Demon to dominate the quarter mile. This car accelerates from zero to 60 miles per hour (mph) in 2.3 seconds and easily tears up the quarter-mile in less than 10 seconds. This makes it the world's fastest quarter-mile production vehicle.
Keeping things cool under the hood is another first in production car technology —a revolutionary liquid-to-air Power Chiller system. It's the first cooling system of its kind and won the 2017 Best of What's Newaward from Popular Science magazine. When in drag mode, this air cooler can reduce the air induction temperature up to 45 degrees Fahrenheit. It's also the first production car to feature an after-run cooler that continues to cool the engine once the Brembo brakes bring the car to stop.
First Wheelie at Launch
Wheelie maniacs are going to love the front wheel lift when they hit the accelerator. The Dodge Demon is the first factory production car to achieve this. A torque reserve launch system combined with Nitto drag radial tires and TransBrake all work together to pop an impressive wheelie at take-off. Drag radial tires have 15 percent more rubber adding 40 percent more launch force. The TransBrake works with the torque reserve launch system to ensure brake-free launches, even when revs per minute are at 2,350. In addition, Drag Mode Launch Assist senses when the tires start to stick or slip and automatically adjusts engine torque to regain traction.
Extra Packages For Only $1
There are some packages and modifications to choose from, and you'll only pay $1 for them! The Demon Crate, for instance, is a personalized crate that fits into the trunk. It holds various performance parts and tools, including a performance powertrain control module, high-octane engine calibration, conical air filter, narrow front-runner drag wheels, hydraulic floor jack, cordless impact wrench, and a torque wrench.
The 2018 Dodge Challenger SRT Demon puts true intimidation into its competitors. True motorheads will find the $84,995 price tag more than fair for the experience you get with this mega performance car. Production of the Demon is limited to 3,300 cars — 3,000 for the United States and 300 for Canada. So if you're salivating at the idea of owning one, rush to your nearest Dodge dealer before they're all gone.
This photo, "2018 Dodge Challenger SRT Demon," by Automotive Rhythms used under CC BY-NC-ND 2.0. "2018 Dodge Challenger SRT Demon" is licensed under CC BY-NC-ND 2.0 by Olathe Chrysler Dodge Jeep Ram.