Let Us Take A Closer Look at the 2018 Dodge Demon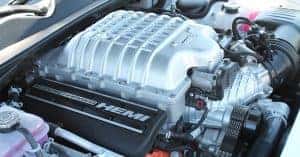 Featuring a wide-body design, the 2018 Demon is a record-setting, racetrack-optimized sports car that promises incredible power and performance. But how exactly has Dodge accomplished this? Here are some of the top features that make the 2018 Challenger Demon appealing for racing enthusiasts and the performance obsessed.
Cutting-Edge Performance Features
Though it's a member of Dodge's performance lineup, which includes the Challenger T/A, Daytona, and Durango SRT, the Demon is an unmatched beast. It features a supercharged 6.2-liter HEMI SRT Demon V-8 engine that can achieve 840 horsepower and 770 pound-feet of torque, boasting a maximum limit of 6,500 rpm. It comes equipped with a functional air-grabber hood scoop, which promotes cooler air intake to deliver more power, as well as a torque reserve launch system that optimizes the engine rpm/torque balance. These features will give drivers more power off the line while preserving the vehicle's traction.
Control and drivability are further ensured with 315/40R18 Nitto NT05R drag radial tires, which promise 40 percent more launch force and 15 percent more "rubber to road" compared to the Challenger SRT Hellcat's tires. Furthermore, the coefficient traction of the Demon's tires is 200 percent better than what you can get from street tires, delivering a consistent driving experience even on a slick surface. Dodge has also reduced the vehicle's weight where possible, shedding nearly 200 pounds through features such as a minimal sound system and lightweight seating.
Additional components include Brembo brakes with slotted two-piece rotors for the vehicle's front brake system, 18-inch aluminum wheels, and dual-illuminated air-catcher headlamps.
Production Car Firsts and Word Records
The 2018 Demon has shattered records and achieved feats never before seen in production vehicles. Here are some of its noteworthy accomplishments:
It is the fastest production car to go from zero to 60 (2.3 seconds) and from zero to 100 miles per hour. The Demon goes from zero to 30 in one second!
It delivers the highest horsepower of any production vehicle.
It has achieved the greatest G-force (1.8 Gs) ever recorded from a production car.
The Demon performed the first wheelie off the line ever executed by a production car.
It is the world's fastest quarter-mile production car, covering this distance in the shortest time ever recorded (9.6 seconds).
In addition to these records, the Demon will feature technology never before seen in a production car. For example, the transbrake system locks the transmission output shaft, keeping the vehicle stationary to increase the torque and response. It is also the first production car to include drag mode launch assist — a system that delivers improved traction control by automatically adjusting the torque to compensate for tire slip, giving the driver greater control and responsiveness in poor conditions.
When Can You See the Dodge Demon?
Pricing has been announced, with an MSRP starting at $84,995, but we're still waiting on an official release date. Only 3,000 Dodge Demons will be available in the United States. If you'd like to own one of these vehicles, keep an eye out for more news and updates and contact Olathe Dodge Chrysler Jeep Ram to let us know you're interested in the 2018 Dodge Demon.
This photo, "Dodge Hellcat Hemi V8," by priceman 141 used under CC BY 2.0. "Dodge Hellcat Hemi V8" is licensed under CC BY 2.0 by Olathe Chrysler Dodge Jeep Ram.