What to Do if You Are in a Fender Bender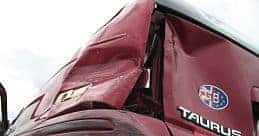 Getting in an accident is a driver's worst nightmare on the road. In addition to the obvious worries about injuries and well-being, you also have to consider the condition of your car. You might be tempted to call the police right away, but is that the right choice? If you're ever in an accident, follow these tips to help you manage the situation.
Take a Breath and Assess Your Injuries
The first thing you should do when you're in an accident is make sure you and your passengers are OK. If anyone is seriously hurt, you should immediately dial 911 for an ambulance. Never try to move anyonewho is injured, as this could exacerbate the damage. The only exception to this is if they are in a dangerous position, such as sitting in a car that's on fire. Remember to take a deep breath and stay calm. You'll probably be jittery with adrenaline, so don't let it overwhelm you.
Get off the Road
If possible, you will want to move your car out of the way of traffic. Leaving them in place is dangerous for you and for other people on the road. While you might be tempted to immediately turn off your car and start looking at the damage, refrain from doing this. It might not turn back on again when you try to move it. Wait until you're safe on the shoulder of the road or in a parking lot before you turn off the engine and get out.
Call the Police
Even if no one is injured, calling the police is still a good idea. In fact, it's what the federal government recommends after a car crash. Dialing 911 is fine, though if no one is injured and you're just calling in the cops to document the damage, calling your local precinct might be easier.
While it's not illegal to exchange insurance information with the other person without the authorities involved, having a third party to assess the damage is a good idea if you don't want to be at-fault. Having a police report keeps the other driver from making inaccurate claims so that their insurer doesn't have to foot the bill.
Exchange Insurance Information
It's imperative to get the other person's insurance information. Otherwise, you'll be stuck paying for damages by yourself. Make sure to get all of their essential information so that you can get in touch if necessary. This includes their full name, insurance company and policy number, and the insurance company's phone numbers. It's also a good idea to get the driver's number in case you need to contact them directly.
Once you've got all this information, call your insurance company to give them a heads-up on the accident. This will prepare them to be on the lookout for the claim.
Getting in an accident isn't fun. But by involving the police for a fender bender, you can minimize some of the hassle. If the accident has left your car in less-than-ideal shape, stop by Olathe CDJR to browse our inventory of new and used vehicles.
This photo, "Fender Bender," by MPD01605 used under CC BY-SA 2.0. "Fender Bender" is licensed under CC BY-SA 2.0 by Olathe Chrysler Dodge Jeep Ram.