Here is a Closer Look at the 2017 RAM 2500 Truck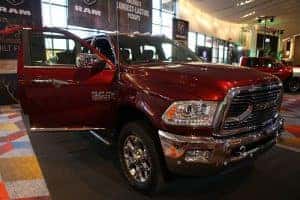 Drivers who prefer a nice mix of power, a smooth ride, and interior quality will love the 2017 Ram 1500, but what if you need a little extra power? Ram offers its signature truck in three sizes: the base 1500, the heavy-duty 2500, and the super-duty 3500. The full-size Ram 2500 is a perfect fit for a lot of drivers, so read on to see what makes this extra-large Ram pickup so great.
Greater Engine Options
Most models of the Ram 1500 offer one standard gasoline engine and a diesel alternative, as well as EcoDiesel vehicles. The 2500 is no different, but both 2500 options are a major step up in raw strength. The base engine is a 5.7-liter V8 with 383 horsepower and 400 pound-feet of torque, a great balance that doesn't tilt it too far from highway driving. For drivers who live where diesel is accessible, or for the greatest towing capacity possible, there's the 6.7-liter diesel V6 with 385 horsepower and 900 pound-feet of torque, the perfect companion for major towing and hauling work.
Power Wagon Model
One of the best things about the 2017 Ram 2500 is the special Power Wagon trim level. This unique 2500 model is built for 4×4 driving only, and it's a beast in any off-road challenge. It uses an exclusive 6.4-liter V6 engine with 410 horsepower, 420 pound-feet of torque, and an overall powertrain tuned toward speedy off-road courses. Anyone who likes to race on dirt courses in a big, brawny truck won't believe what they've missed with the Ram 2500 Power Wagon.
Awesome Capabilities
The 2500 is like driving a tank, and for those who rank force over swiftness, that works out just fine. With the hulking diesel engine and the proper equipment, the Ram 2500 has a maximum towing capacity of 11,880 lbs, and with the Power Wagon, it has a maximum payload capacity of 1,466 lbs. Those who would like a little more refinement for traveling over bumpy rocks and other types of challenging terrain may want to consider the 4×4 Off Road package. New for 2017, this adds a vast collection of off-road feature replacements, from the tires to the Bilstein shocks.
Heaping Standard Features
The Ram 2500 has a range of trim levels that let you go as classy and comprehensive as you'd like, but even in the base model, this truck comes with some solid features inside and out. A pickup box is standard, along with 12-inch styled steel wheels and a choice between work-grade vinyl seating or more comfort-focused vinyl for your cabin. As for technology, a six-speaker audio system is standard, and higher models come with an advanced touchscreen infotainment system with apps, voice commands, mobile phone syncing, and advanced built-in navigation.
Though it's not nearly as capable as the Ram 3500, which has size and power to rival Godzilla, the 2500 is the ideal sweet spot for a lot of truck drivers. Give us a call, email us, or visit our lot if you're interested in a Ram 2500 model, and we'll happily answer any questions and help you through the process of finding the perfect truck for your needs.
This photo, "2017 Dodge Ram 2500 Diesel," by Michael Dorausch used under CC BY-SA 2.0. "2017 Dodge Ram 2500 Diesel" is licensed under CC BY-SA 2.0 by Olathe Chrysler Dodge Jeep Ram.