Windshield Chip & Crack Repair
Has a rock caused a chip in your windshield while driving at high speeds on the highways near Gardner? Has your windshield shattered following a collision? Whether you have a small chip in your windshield, a large crack, or a complete shatter, Olathe Dodge Chrysler Jeep Ram is here to help you out with windshield repair near Overland Park. The skilled professionals in our auto body shop have the expertise to get you situated with quick, quality fixes for your auto glass or provide a total replacement as necessary. Learn more about windshield repair from our team!
Windshield Crack Repair vs. Replacement
It's easy to ignore small chips in your vehicle's windshield as you drive around Springhill, but leaving them alone will eventually lead to spreading cracks. These will disrupt your line of vision and potentially make driving unsafe. As such, it's important to address windshield chips and cracks as soon as possible.
If your windshield damage is small enough, then windshield repair is likely the route Olathe Dodge Chrysler Jeep Ram will take, as opposed to an entire windshield replacement. The process involves removing air from the chip or crack and filling it with a curable, optically matched resin. This serves to restore strength and structural integrity of the windshield by bonding the glass together. Overall, the process prevents the chip or crack from spreading further.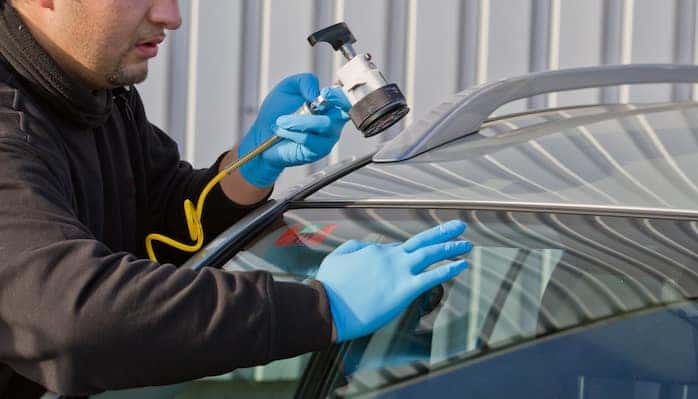 Why Seek Out Windshield Repair Near Springhill?
You may still be curious as to why you should seek out windshield repair sooner rather than later. For one, chip repairs are affordable, especially when you factor in our available parts and service coupons. Windshield chip repair may even be covered by your insurance, and it certainly is cheaper than a full replacement. And while we understand that bringing your car in for service for something seemingly minor might normally seem like a hassle, your appointment will be completed quickly and efficiently by our experienced technicians. With all of this in mind, it certainly makes the most sense to address windshield chip repair before windshield crack repair or a full replacement becomes necessary.
Schedule Windshield Repair at Olathe Dodge Chrysler Jeep Ram
When you notice a chip or a crack in your windshield, don't wait! Schedule service with Olathe Dodge Chrysler Jeep Ram to take care of the damage as soon as possible. We can quickly restore your windshield to working order and get you back on the road safely. Please don't hesitate to get in touch with any questions!
Schedule a Body Shop Appointment