The Best Car to Buy in 2018 is the Chrysler Pacifica Hybrid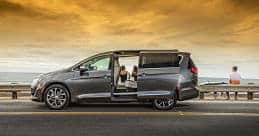 Families across America can rejoice. Hauling your family around in a big minivan no longer needs to blow the gas budget. The Chrysler Pacifica Hybrid, launched in 2016, gives families a much-welcomed fuel-efficient alternative. The 2018 Pacifica Hybrid is so impressive that Green Car Reports named it the Best Car to Buy in 2018. Here's why.
The Only Green Minivan
While other automobile manufacturers focused on building electric and hybrid hatchbacks and sedans, Chrysler spotted a gap in the market. No one had yet thought to offer a hybrid minivan. Crossovers may have overtaken minivans in popularity, but the minivan is far from dead. So Chrysler took an unprecedented step and created the first and only seven-seat plug-in hybrid minivan, with resounding success.
Impressive Range
The Chrysler Pacifica Hybrid combines a 3.6-liter V6 engine with a 16-kilowatt-hour battery. You'll get 84 miles per gallon equivalent (MPGe) when using both gasoline and electric, 33 miles in electric mode, and 566 miles total driving range. That means you can drive around town comfortably in electric mode and save fuel. It also means you can hit the long road with confidence. The Pacifica will automatically switch over to the gasoline engine when the battery range ends so you'll have no problem reaching your destination.
Stylish Interior
You'll hardly notice a difference between the regular Pacifica and the hybrid version when you step inside the beautiful cabin. The only two features missing from the hybrid is an optional eighth seat and the Stow 'n Go under-floor storage. Minivan buyers will be pleasantly surprised at the elegant interior that's easily on par with some luxury vehicles. It features perforated Nappa leather seats and a sunroof. For the driver, everything is within easy reach thanks to a well-designed dashboard, steering wheel buttons, and a large 8.4-inch touchscreen.
Plenty of Space
The interior is spacious and there's easy access to the third row. Cargo space amounts to 32.2 cubic feet behind the third row. Fold down the third row and you get 98.5 cubic feet of space. That's plenty of room for kids' stuff, sports and camping gear, and the family dog. Plus, the cabin offers more than enough storage with deep bins, storage pockets, trays, cup holders, and even grocery bag hooks.
Useful Technology
The Pacifica Hybrid offers technology for the whole family. The Uconnect infotainment system includes smartphone integration, HD radio, Blu-ray player, wireless streaming, USB and HDMI inputs, and 4G LTE Wi-Fi. You can view important driver information such as battery usage, power flow, and driving history. It also helps you drive efficiently by showing a green light when you're driving efficiently and a white light when you're not. Kids in the second row can be kept busy with games and apps on the 10.1-inch seatback-mounted touchscreens. There's also the option of adding a wireless charging pad and an overhead DVD player.
When selecting the best green car, Green Car Reports takes into account technologies, practicality, and impact on the environment. It's clear they were impressed by the thought Chrysler put into the Pacifica Hybrid. A quick test drive at a Chrysler dealer and you'll be impressed too. Plus, because this is a hybrid vehicle, you'll receive a $7,500 federal tax credit.
Find your favorite trim level by taking a closer look at Chrysler Pacifica configurations with help from our team!
This photo, "2017 Chrysler Pacifica Limited," by Automotive Rhythms used under CC BY-NC-ND 2.0. "2017 Chrysler Pacifica Limited" is licensed under CC BY-NC-ND 2.0 by Olathe Chrysler Dodge Jeep Ram.