4 Awesome Nightlife Attractions Around Kansas City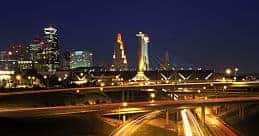 Whether you live in or around Kansas City, or you're just visiting, you may not know about all the nightlife the city has to offer. Whether you're looking for a laid-back bar or a hopping club, you're sure to find nightlife attractions to fit your mood. Check out some of the best options in the city.
Green Lady Lounge
If you're in the mood for some classic Kansas City jazz, make sure to visit Green Lady Lounge, located at 1809 Grand Blvd. They are open nightly until 3 a.m. making this the perfect place to start your evening or end your night. You'll find outstanding live jazz music, a cozy atmosphere, and awesome cocktails. There isn't a menu, so don't come too hungry. However, they do offer a small variety of appetizers. One of the best parts about Green Lady Lounge is they don't have a cover charge, so you're always able to stop by.
Knuckleheads
Knuckleheads is one of the most popular nightlife spots in the city. Come check it out for yourself at 2715 Rochester St. If you love live music, this is one of the best places you can go, and has the motto "Where the World's Greatest Musicians Play." The funky atmosphere gets you in a dancing mood, and you can enjoy the show in the courtyard or by the stage. Sometimes you'll even get the experience of seeing an open jam session with world-renowned musicians. Grab a drink and enjoy the music for a night to remember.
Aura
Get your dance on when you head to Aura located at 3832 Main St. Here you'll get top-of-the-line audio and lighting, with a light show that is unlike anything else you've seen. When you head to Aura, you're going for more than a night out, you're going for an experience. You'll find a full-service bar, live DJ, and tons of other dancers on the floor loving every minute. If you're planning a party, don't forget to schedule your table and bottle service ahead of time. Aura is open Thursday through Saturday from 9:30 p.m. to 3 a.m.
Funky Town
Located at 8300 E. State Rt. 350, Funky Town is a casual club where you can dance the night away to some of your favorite music. Get a little retro as you walk in the door. In fact, this is a club where you'll feel welcome and have fun no matter your age. The majority of the music played is 70s-era disco, but they also play current pop and dance music. No matter what your taste, you'll quickly find you can't help dancing when you're at Funky Town. Bring along your appetite, since they have a menu featuring appetizers, pizza, and dinner options.
Whether you're planning an event or you just want to get out on the town, Kansas City has a lot to offer. You'll find a huge number of bars and pubs, as well as dance clubs and lounges to fit every style. Check out the different offerings throughout the city to find your new favorite nightlife spot.
This photo, "ib 1020.JPG," by Mark Goebel used under CC BY 2.0. "ib 1020.JPG" is licensed under CC BY 2.0 by Olathe Chrysler Dodge Jeep Ram.