3 Grub Pubs That Will Become Your New Favorite Spot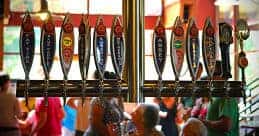 Whether you want to unwind with a burger and beer, challenge your friends to a trivia night, or have a true dive bar experience, you won't be short of options in Kansas City. Here are some of the best hole-in-the-wall bars in the area, including their location, prices, and other important details, such as specials and signature drinks.
Green Room Burgers & Beer
The Green Room Burgers & Beer is a great place to grab a bite and a brew. The restaurant hosts a pub quiz on Mondays at 8 p.m. Participation is free. Check out the gift shop before you leave, which features t-shirts, glassware, and even dog biscuits made from the brewery's own grain. At the bar, you can choose from a selection of wines, spirits, and beers. Drink prices range from $6 to $9.
Location: 4010 Pennsylvania Avenue, Suite D (at Mill Street Station)
Hours: The restaurant opens at 11 a.m. daily, closing at 11:00 p.m. Monday-Tuesday; 1:00 a.m. Wednesday-Saturday; and 10 p.m. Sunday.
Specials: Happy hour is every weekday from 2 to 6 p.m., offering $2 off all drinks. There's also an early-bird lunch special every day from 11 a.m. to 2 p.m.
Lew's Grill & Bar
Lew's Grill & Bar is another excellent choice if you want to pick up some food and socialize over a beer, mixed drink, or glass of wine. Weekly activities include a Wii Night, a Boulevard Beer & Baseball night hosting Kansas City Royals games, and Wednesday Steak & Trivia.
Drinks are in the $5 to $8 range, including a selection of House Infusions. There's also the signature Lew's 84-ounce Das Boot! Happy hour specials are available daily, and you can sign up for a rewards card to earn free food and drinks as well as birthday and anniversary awards, game day discounts, and more.
Location: Historic Waldo, 7539 Wornall Road.
Hours: The kitchen is open daily from 11 to 2 a.m., and the bar is open daily from 11 to 3 a.m.
Specials: Lew's specials vary daily and feature select discounted drinks (such as cheaper beers and wells on Tuesday) and half-price appetizers.
Zoo Bar
The Zoo Bar is a pub and dive bar featuring a full selection of spirits and beers. The jukebox, pool table, guest-graffitied walls, and cash only policy contribute to its "dive" ambience, but here you'll find a welcoming atmosphere and friendly bartenders. This is a local favorite in the Central Business District. Drink prices dip as low as $2.25.
Location: 1220 McGee Street
Hours: The bar is open Monday through Saturday from 10:00 to 1:30 a.m.
Specials: For more information on drink specials and happy hour, call 816-842-6060. The Zoo Bar's Mini Beer and Jello Shot are two signature options.
If you're craving some pub food or just a good conversation, check out one of these locations.
This photo, "New Belgium beers on tap," by Quan Ha used under CC BY 2.0. "New Belgium beers on tap" is licensed under CC BY 2.0 by Olathe Chrysler Dodge Jeep Ram.