2018 Jeep Wrangler vs 2018 Toyota 4Runner in Olathe, KS
Comparing the 2018 Jeep Wrangler and 2018 Toyota 4Runner SUVs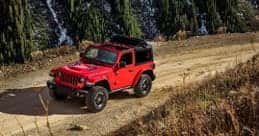 The Wrangler vs. 4Runner is one of the most requested vehicle matchups from Kansas City drivers. Although these models are often confused, they are, in a lot of ways, like apples and oranges. The 2018 Jeep Wrangler is a compact SUV, while the Toyota 4Runner is a mid-size. Each has a lot of "curb appeal" for those who want a great-looking SUV
to park at the kids' soccer match on Saturday mornings, but they can also both go off road without breaking a sweat. So which one comes out on top?
Trim Levels and Pricing
Starting at $26,995 MSRP, the 2018 Jeep Wrangler is an affordable SUV that packs a lot of power and potential. All of its four trim packages come with a 285-horsepower V6 engine standard. Being a larger SUV, the 2018 Toyota 4Runner carries a higher price tag of $34,410 to start and is available in six different trims.
2018 Jeep Wrangler Trim Levels
In addition to its four trim options, the 2018 Jeep Wrangler is also available as either a two-door or a four-door (except on the heavy-duty Jeep Wrangler Sahara, which is only available with four doors). The base model for the 2018 Jeep Wrangler is the Jeep Wrangler Sport, which comes with an eight-speaker sound system, a rearview camera, Bluetooth, and more right out of the gate. The Jeep Wrangler Sport S adds power windows, keyless entry, and air conditioning. While any of the 2018 Jeep Wrangler trims can handle the trail, if you are looking for a serious off-road experience, you'll want the Wrangler Sahara or the Jeep Wrangler Rubicon.
2018 Toyota 4Runner Trim Levels
The 2018 Toyota 4Runner is available in six trim packages, starting with the SR5 and running through the SR5 Premium, the TRD Off-Road, the TRD Off-Road Premium, the Limited, and the TRD. Several of the trim packages come standard with rear-wheel drive, though they can be upgraded to four-wheel drive for $2,000. Because of the vehicle's larger size, it also has a commensurately higher price tag than the 2018 Jeep Wrangler.
Conclusion: With its lower price point and high quality trim options, it's tough to beat the 2018 Jeep Wrangler, especially when you consider that the reliable Wrangler went through a significant redesign in 2018, creating a sharp, modern-looking SUV, while the Toyota 4Runner unveiled few major changes from the previous model year.
Engine Options & Performance Factors
When it comes to SUVs, performance matters. Even if you mostly use your 2018 Jeep Wrangler or Toyota 4Runner to drive to the grocery store or take the kids to school, you expect an SUV to be able to handle less than ideal conditions if you need to go off road. That's where engine and performance options come in.
2018 Jeep Wrangler Engines & Performance Factors
No matter which 2018 Jeep Wrangler you choose, it comes standard with a 3.6L Pentastar® V6 engine capable of generating 285 horsepower, though the new 2018 redesign also comes with the option of exchanging that for a turbocharged 2.0L four-cylinder engine that can still crank 270 horsepower while also getting better gas mileage. The 2018 Jeep Wrangler is also capable of towing up to 3,500 pounds when properly outfitted and equipped. We also offer a variety of Jeep Wrangler accessories that will improve performance even further!
2018 Toyota 4Runner Engines & Performance Factors
The 2018 Toyota 4Runner is a bigger SUV, which means that it comes with a bigger engine, but even its 4.0L V6 engine only generates the same 270 horsepower as the Jeep Wrangler's turbocharged four-cylinder. It also gets some of the lowest gas mileage of any mid-size SUV.
Conclusion: With more horsepower and better fuel economy than the Toyota 4Runner, not to mention a six-speed manual transmission standard (that can be traded out for an eight-speed automatic if you prefer), the 2018 Jeep Wrangler is an excellent choice for those who want an SUV that can go anywhere and handle the weather road conditions that are thrown your way!
Interior & Noteworthy Features
Sure, both the 2018 Jeep Wrangler and the 2018 Toyota 4Runner are designed to tackle the trail any time, but that doesn't mean you want a ride that's as rough as the path ahead of you. Fortunately, modern day SUVs benefit from comfortable interiors and luxurious amenities!
2018 Jeep Wrangler Interior & Features
One of the many things improved by the new 2018 redesign of the classic Jeep Wrangler is the interior. The new Wrangler is more comfortable than ever before, with plenty of storage space, USB and auxiliary ports, Bluetooth, and the Uconnect infotainment system, to name a few of the standard amenities in even the most basic 2018 Jeep Wrangler. Higher trim packages feature upgrades like automatic climate control and an Alpine sound system. Most trim levels also include the option for removable hard tops and doors for the summer outdoors or road trip.
2018 Toyota 4Runner Interior & Features
As a mid-size SUV, the 2018 Toyota 4Runner has a bit more interior space than the Jeep Wrangler, allowing you to seat five people with its standard configuration. However, there are no major changes to the 2018 4Runner from previous model years, which leaves its interior feeling less contemporary than that of other 2018 SUVs. Available options are more rugged in nature and don't live up to the expectations of a truly one of a kind experience that Wrangler can provide.
Conclusion: People buy the latest and greatest SUVs because they want exactly that, and the 2018 Jeep Wrangler is the best Wrangler yet! With an interior made up of redesigned materials and the latest luxury options available, the new Jeep Wrangler feels much more up to date than the 2018 Toyota 4Runner.
Safety Features
Whether you're planning to take it up the side of a mountain or just hauling the family around town on the weekends, you want an SUV that scores high on safety.
2018 Jeep Wrangler Safety Features
Because the Jeep Wrangler was extensively redesigned for the 2018 model year, it hasn't yet been fully crash tested. However, Jeeps are known for being built tough, and that toughness extends to solid construction that can help reduce damage in the event of a crash. That will never change and is will remain a part of the Jeep brand. Every 2018 Jeep Wrangler comes with a rearview camera standard, while other available safety features include rear parking sensors, blind spot monitoring, and cross traffic alert.
2018 Toyota 4Runner Safety Features
The 2018 Toyota 4Runner has received mixed crash test scores. The National Highway Traffic Safety Administration gave it five stars for side crash tests, but only three stars for rollover.
2018 Jeep Wrangler vs Toyota 4Runner Comparison Conclusions
When you want a new SUV that can go anywhere and do anything while still looking striking and modern, you want a 2018 Jeep Wrangler. In spite of its larger size, the 2018 Toyota 4Runner simply costs more, boasts a less modern interior, and has worse fuel economy than the Wrangler. And even as a mid-size SUV, its engine options can hardly compete. When it comes to off-road and city life excitement, the answer is clear: the 2018 Jeep Wrangler from Olathe Dodge Chrysler Jeep Ram. Be sure to check out Jeep Wrangler colors so you can find your favorite available at our dealership.