Here and everywhere else, OEM stands for "Original Equipment Manufacturer." More importantly, OEM automotive components stand for the official, genuine parts produced directly by your vehicle's manufacturer. This is an easy enough definition, but what does OEM mean in practice for Overland Park drivers looking for parts for their vehicle? Today,Olathe Dodge Chrysler Jeep Ram reviews OEM vs. aftermarket parts in depth so that you know why OEM parts are important. We'll also touch on the following:
How do OEM parts compare to aftermarket parts?
What is Mopar®?
What does Mopar® mean for parts?
OEM Meaning for Automotive Parts
Before we explore the reasons why you should choose OEM genuine parts for your Gardner daily driver, more needs to be discussed in regard to the definition of OEM in the automotive world, since in other industries, OEM parts might be produced by one company and sold by another under the latter's logo and branding. In the automotive world, many OEM parts are produced directly by your vehicle's manufacturer.
Alternatively, they may have been designed by the vehicle's manufacturer with a specific purpose in mind, then produced by another reputable manufacturer. Regardless of their source, OEM parts are always designed by the original manufacturer of the vehicle they represent, which results in better value, reliability, and longevity. In the case of Chrysler, Dodge, Jeep, and RAM vehicles, their OEM parts are produced under Mopar®.
OEM vs. Aftermarket Parts
The service department at Olathe Dodge Chrysler Jeep Ram carries out all repairs using genuine OEM auto parts. But, why is it important that we use genuine Mopar® parts? Learn why value-conscious drivers prefer OEM parts over aftermarket options:
Aftermarket parts may be designed to fit more than one vehicle, and some may even need to be cut or modified in order to fit your model. Your car is a precision machine, and you put it at risk by bolting on parts that won't fit.
Those who go searching for aftermarket parts might need to spend hours looking for ones that will work (and which sometimes work improperly), so you'll save time by asking for genuine OEM auto parts at a dealership. You'll never have to worry about ordering the wrong component if you go with OEM parts.
Why replace the same part over and over again? OEM parts are designed to fit in your vehicle, so they'll stand up to wear and tear on the roads near Springhill much better than aftermarket parts. Most also come backed by superior OEM warranty coverage.
Don't let the lower price tag fool you. Aftermarket parts wear out more quickly, and what you save in cash, you're sure to lose on labor. Make the smart choice, and carry out repairs with parts you can trust.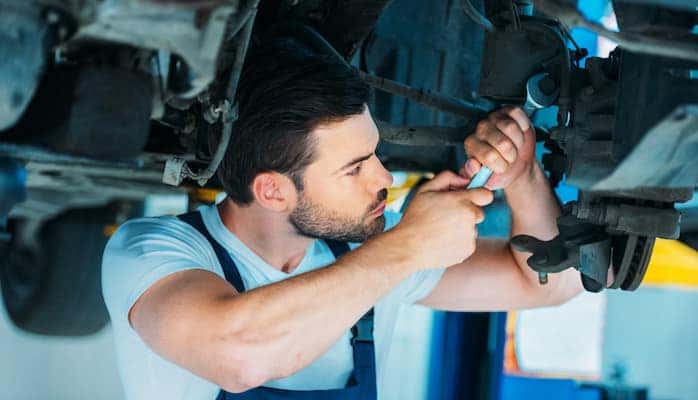 Our experienced technicians specialize in OEM Mopar® parts for Dodge, Chrysler, Jeep, and RAM vehicles, and we carry out all repairs with a professional touch. Not only that, but the Olathe Dodge Chrysler Jeep Ram service center welcomes all makes and models.
What Is Mopar®?
We've continually mentioned it, but what is Mopar®, and what does Mopar® stand for? Mopar® is the parts, service, and customer care division of Chrysler, Dodge, Jeep, and RAM vehicles. It's a combination of the words "motor" and "parts" and is the brand associated with OEM Chrysler, Dodge, Jeep, and RAM products. While Mopar® doesn't carry the name of Chrysler, Dodge, Jeep, or RAM, it is the OEM manufacturer that you'll want to use when you're looking for high-quality parts and accessories.
Mopar® has a rich history in motorsports and can be counted on whether you need parts to keep your new Dodge Challenger running smoothly on the tracks or interior accessories to keep your new Jeep Wrangler in excellent shape during off-road excursions. Find out more about, "What does Mopar® stand for?" today when you give our experts a visit.
What Does Mopar® Mean for Parts?
Now that we know, "What does Mopar® stand for?", you may be wondering, "What does Mopar® mean for parts?" From its inception, Mopar® has provided drivers from far and wide with a high-quality selection of genuine OEM parts. They've been produced with performance and durability in mind so that your Chrysler, Dodge, Jeep, or RAM vehicle can continue to run smoothly on all of your adventures.
Although Mopar® has become synonymous with automotive racing in Formula Drift, NASCAR, and more, it's also here to provide you with exactly what you need to keep your vehicle on the road. From classic cars to modern vehicles, find Mopar® parts today at our parts center, and you won't be disappointed.
Visit Your Olathe Dodge Chrysler Jeep Ram Parts Department Today!
Whether you're looking for OEM auto parts, genuine accessories, or simple necessities like fresh oil and oil filters, our parts department in Olathe can help. Contact us today for assistance!