Jeep Towing Capacity Guide

As you peruse the new Jeep lineup, you may find yourself wondering which model offers the best towing capacity. Some Overland Park-area drivers are simply seeking the best SUV for towing, while others want a vehicle with strong towing capabilities combined with greater maneuverability. Fortunately, no matter which new Jeep vehicle you choose, you're treated to an off-road capable vehicle with plenty of towing power.
From the Jeep Compass towing capacity to the Jeep Wrangler towing capacity, we're going to help you discover the Jeep towing capacity by model so that you can decide which Jeep vehicle best fits your needs. Today, the experts at Olathe Dodge Chrysler Jeep Ram will provide you with a Jeep towing capacity chart and help you understand what makes towing with a Jeep so easy!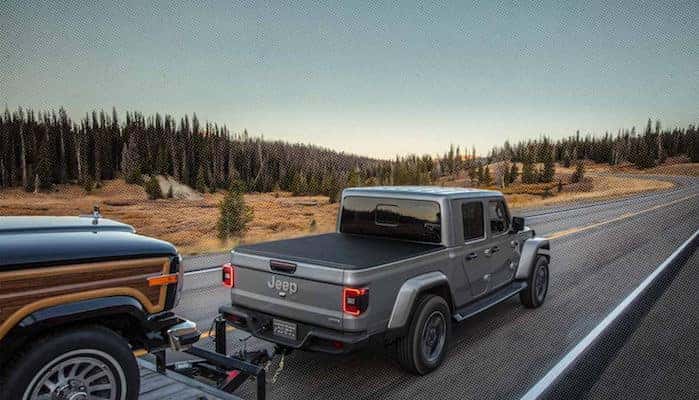 Greatest Jeep Towing Capacity: Jeep Gladiator
After browsing through the Jeep tow capacity chart, you'll notice that the Jeep Gladiator technically offers an incredible amount of towing power for your Gardner adventures. It's also arguably one of the most versatile options as well. After exploring the Jeep towing capacities by model, it's clear that the new Jeep Gladiator won't let you down.
Thanks to an open-air driving experience, incredible towing power, and legendary off-road capabilities, you'll be ready for anything as long as you're opting for the new Jeep Gladiator. Ready to find out how you can tow with the new Gladiator? Head to our dealership today, and we'll be happy to get you behind the wheel of this impressive Jeep vehicle.
Best SUV for Towing: Wagoneer & Grand Wagoneer
While the Jeep Gladiator is the ideal option for drivers looking for a versatile vehicle, you'll want to take a look at the new Wagoneer and Grand Wagoneer if you need to maximize family space and towing prowess. The Wagoneer and Grand Wagoneer provide powerful engine offerings and an interior that's luxurious and high-class.
While you're busy towing around Springhill, you can indulge in pure opulence thanks to the level of luxury found inside the cabin of the Wagoneer. Upgrade to the Grand Wagoneer, and you'll never want to leave thanks to an even more elegant and lavish interior. With family-sized seating and the latest in technology and comfort, these SUVs can truly do it all.
Features That Enhance Jeep Towing Capacity
When you're looking at the Jeep towing capacity chart and learning about the Jeep towing capacity by models, you'll immediately notice that each model offers impressive towing figures for its classes. Compared to other competitors, Jeep models offer both the towing performance and off-road capability you need for a successful adventure.
But, that towing prowess isn't just due to their engine choices. Jeep models offer a wide range of features and technology to make every towing job easy. After you're done studying the Jeep tow capacity chart, take a look below at some of the features and technology that Jeep vehicles offer to maximize towing performance:
Integrated Trailer Brake Controller: The Integrated Trailer Brake Controller provides adjustable braking power to your trailer's electric brakes. This allows for ultimate control as you start up and slow down while you're towing a trailer.
ParkView® Rear Backup Camera: It can be difficult to back up to a trailer alone, but with the ParkView® rear backup camera system available on most Jeep models, you'll have no problem precisely lining up your Jeep to a trailer.
High-Strength Chassis: Your Jeep vehicle boasts a high-strength chassis that not only maximizes off-road performance but allows you to tow a great deal as well.
Pick Out Your Favorite Jeep at Olathe Dodge Chrysler Jeep Ram
Need to take a closer look at the Jeep towing capacity chart? Head over to our dealership at Olathe Dodge Chrysler Jeep Ram for further assistance. Get in touch with our experts today to arrange a test drive of any of the tow-friendly Jeep models at our dealership on the Olathe roads!
More Jeeps News from Olathe Dodge Chrysler Jeep Ram
Go far off the beaten path when you're behind the wheel of a 2022 Jeep Wrangler. The new Jeep Wrangler retains its legendary roots and delivers incredible off-road performance and provides an open-air driving experience around Overland Park that you won't forget. While off-road performance and removable tops and doors are a strong suit of the…

The 2022 Jeep Gladiator is a unique vehicle that'll allow you to stand out on the Overland Park roads. It provides an open-air driving experience and incredible off-road performance typically found in the new Jeep Wrangler but adds extra versatility with a truck bed. All of that combined provides you with a vehicle that's unlike…

Getting behind the wheel of a new Jeep vehicle means that you get to enjoy incredible off-road performance when you're going off the beaten path near Overland Park. Fortunately, the 2022 Jeep Cherokee is no different and provides all the off-road prowess you need for a successful drive. With that being said, the new Jeep Cherokee…