How Does Car Financing Work?
If you're asking yourself, "What does it mean to finance a car?" and "How does financing a car work?", we at Olathe Dodge Chrysler Jeep Ram are here to help. Once you're ready to get behind the wheel of a new or used vehicle, you have a few options. You can outright purchase the vehicle, lease it, or apply for financing. Learn more about each to see which option is best for you and your financial situation. Have any questions? Contact our finance department today!
How Does Financing a Car Work?
The first step to learning how car financing works is to know what you'll need when applying for a new or used car loan through the dealership, a bank, or even a credit union. Most applications can be started online, or you can apply at the dealership in person. Factors that the lender will look at include:
Loan Amount
Length of Loan
Debt-to-Income Ratio
Age of the Vehicle
If you have a low score or bad credit, a car loan might still be an option at the dealership. Consider asking a close friend or family member to cosign your loan. Another option is leasing. You're more likely to get approved for a lease with bad credit, although the payments will be higher than if you had good credit history.
Choose Your Lender
If approved for a loan, there may be a few options for you to choose from when it comes to lenders. Some dealerships offer in-house financing. And if you have bad credit, this may seem like your only option; however, you can also compare this offer to that from a bank or credit union to see which makes the most sense for your needs and budget. Before this, you'll want to keep in mind how much money you can put down as well as how much you can afford in terms of monthly payments. You can even use our online payment calculator to estimate these payments.
Finalize the Loan Terms
Before finalizing your loan and buying a car, you may need to negotiate on price. If this is the case, you and the salesperson can go back and forth until you settle on a loan with an interest rate that works for you. Once you settle on a price, be sure to look over additional loan agreements, and then you can finalize the loan terms and close the deal. After the paperwork is signed, you can drive off in your next RAM or Jeep vehicle.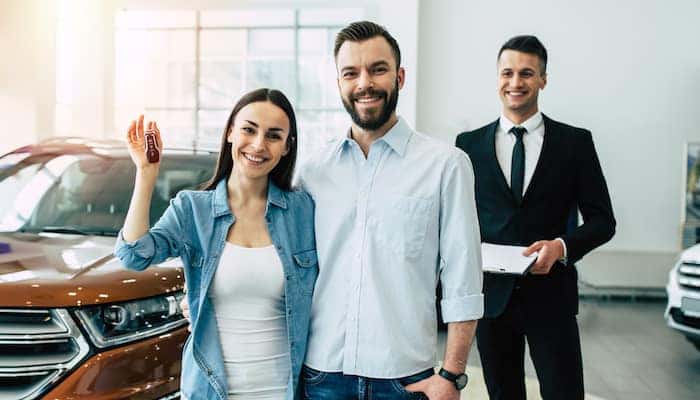 Learn More About Car Financing in Olathe
Get the automotive finance process started today by applying online! If you're still in the research phase, feel free to browse our new vehicle specials and contact Olathe Dodge Chrysler Jeep Ram to talk with someone from our finance department with any questions concerning your financing needs.
Recent News from Olathe Dodge Chrysler Jeep Ram
Go far off the beaten path when you're behind the wheel of a 2022 Jeep Wrangler. The new Jeep Wrangler retains its legendary roots and delivers incredible off-road performance and provides an open-air driving experience around Overland Park that you won't forget. While off-road performance and removable tops and doors are a strong suit of the…

When you opt for a new Dodge vehicle to help you take on your Overland Park adventures, you know that you're getting a vehicle that delivers incredible performance. Now, Dodge is introducing an incredible new compact SUV that provides legendary Dodge muscle and performance to the segment. Introducing the 2023 Dodge Hornet, a compact utility vehicle…

The off-road performance of any new Jeep vehicle is hard to beat. They're all incredibly capable with innovative off-road technology to get you far down the roads less traveled. WIth that being said, the off-road capabilities of a new Jeep Wrangler are hard to deny and it's arguably one of the most capable vehicles available…