How to Remove Scratches From Your Car
Whether it's a brand-new RAM truck or Jeep SUV or a trusted model you've owned for years, discovering new scratches in the exterior paint of one's car leaves us all with a sinking feeling. With that in mind, Olathe Dodge Chrysler Jeep Ram brings Overland Park-area drivers this guide on how to remove scratches from your car. When you're in need of car scratch repair near Gardner, remember that you can always turn to the Olathe Dodge Chrysler Jeep Ram Body Shop!
DIY Car Scratch Repair Tips
While scratches may seem like an unavoidable part of owning a vehicle, it's important to take care of them as soon as possible so as to prevent rust and more expensive auto body work in the future. The good news is that some dings can be taken care of with DIY car scratch repair. Simply follow these steps:
Locate your vehicle's paint code, typically located inside your car's driver side door jamb. You will want to use the paint that matches your car. The Olathe Dodge Chrysler Jeep Ram Parts Department should be able to help if you're having trouble identifying the right shade.
Make sure you have all the necessary supplies, including primer and sandpaper as necessary, as well as goggles and latex gloves.
Work out of direct sunlight, away from excessive debris, and in an area with low humidity.
Wash your vehicle, and carefully sand the area of the scratch if required. Smaller scratches may only need a rubbing compound instead of sandpaper.
Apply primer in thin coats where bare metal or plastic is showing. Allow plenty of time to dry.
Touch up the area of the scratch using the paint, applying it in thin layers and letting each layer dry.
After approximately 72 hours, use a rubbing compound. Within a month, you can wax your car.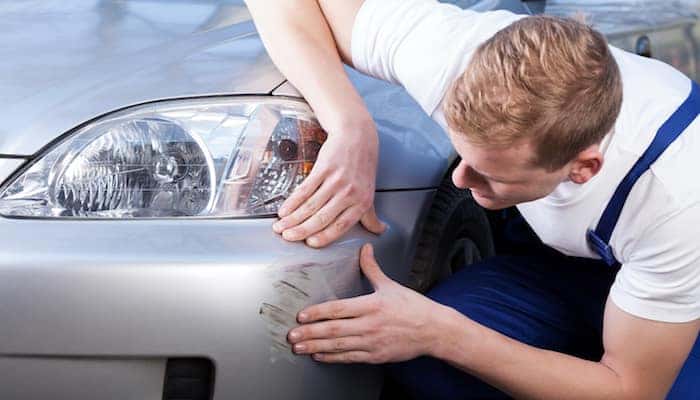 Otherwise, you can use a scratch or swirl removal product, which usually requires only one application for quick and easy paintwork finish improvement. These products are great for localized repair on single scratches.
Car Scratch Repair Near Springhill at Olathe Dodge Chrysler Jeep Ram
Would you rather have professionals take care of your dings and scratches? If so, make an appointment for car scratch repair near Springhill at the Olathe Dodge Chrysler Jeep Ram Body Shop. Our in-house detailing services, which are completed by our expert technicians, ensure that any imperfection will be thoroughly buffed away, leaving your car looking like new. Have any questions about our process or the cost of car scratch repair? Don't hesitate to get in touch with our team!
Schedule a Body Shop Appointment