How to Care For Your Car's Paint Job
Unsure how to care for your car's new paint job? If you recently brought your vehicle to the Olathe Dodge Chrysler Jeep Ram Auto Body Shop and want to maintain the brilliance of brand-new paint, then you've come to the right place. This car paint care guide from the experts at Olathe Dodge Chrysler Jeep Ram will help you keep your vehicle in terrific condition, sure to impress other drivers on Overland Park-area roads.
Newly-Painted Car Care Tips
Consider these newly painted car care tips for long-lasting shine:
Wash your car. Wash your car on a regular basis. If relying on commercial power washes, maintain a decent distance between your car and the pressure jet, so as not to damage the paint.
Apply the appropriate wax. Buying the right kind of wax for your specific paint is crucial. Determine the type of paint used on your car, and then buy the proper detailing products. If you use just any wax, it may end up stripping your car of its shine.
Use a paint conditioner. This product serves to protect your paint job. Follow the instructions on the package for the best results.
Try high-quality clay. Turn to a high-quality clay to promote a better finish and prominent shine. Follow proper clay application protocol, using the right applicator pad to avoid scratching your vehicle, and wash your car prior to application.
Undercoat and rust-proof your car. The best car paint care typically involves undercoating and rust-proofing. The latter is especially important, as rust will destroy the surface of your car.
Fix scratches immediately. As soon as you notice a scratch, you should promptly address it. Schedule an appointment with the Olathe Dodge Chrysler Jeep Ram Auto Body Shop for deeper scratches and dents.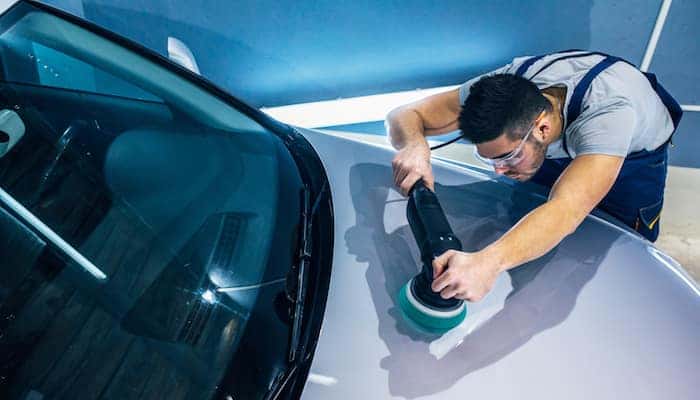 Remember, newly-painted car care is crucial if you want to maintain the luster of your vehicle. When you do, not only will you make a statement on Gardner roads, but you'll also promote your car's exterior health, making it drivable for much longer.
Make Your Next Auto Body Appointment at Olathe Dodge Chrysler Jeep Ram
Car paint care is an important component of overall auto body work, and it's something you should prioritize. Luckily, Springhill-area drivers have access to the expertise of the Olathe Dodge Chrysler Jeep Ram Auto Body Shop. Get in touch if you have any questions, and check out our additional auto body repair tips and tricks like car bumper repair. We'd also love to help you learn more about car detailing today.
Schedule a Body Shop Appointment